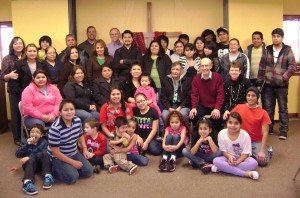 Worship service 11:00 a.m. Sundays lower level.
Servicio de adoracion 11 a.m. los domingos en la planta de abajo
Sunday school 9:30 a.m. Kitchen in lower level.
Escuela dominical 9:30 a.m. Cocina en la planta de abajo.
Children and youth are welcome to attend Sunday school classes of Bethel Church at 9:30 a.m.
Los niños y jóvenes están bienvenidos para asistir clases de la escuela dominical de la Iglesia Bethel a 9:30 a.m.
Si no conoce nuestra iglesia o si hace tiempo que nos acompaña, ¿por qué no nos hace una visita pronto? Empezamos los domingos con una clase dinámica para adultos en español a 9:30 a.m. Nos reunimos en la cocina en la planta de abajo. Los niños y los adolescentes se incorporan a las clases con sus pares de la iglesia Bethel. Luego a 11:00 a.m. hay servicio de adoración en la planta de abajo. Hay estudio bíblico los viernes a 7 p.m. en la sala de fiesta de Crescent Apartments en Blue Earth. Además realizamos eventos sociales y convivios mensualmente.
Esperamos ofrecer pronto unas actividades especialmente para matrimonios.
Llámanos si quiere más información sobre nuestras actividades.
If you are not acquainted with our church or if it has been a while since you have accompanied us, why not visit us soon? We begin on Sundays with a dynamic class for adults in Spanish at 9:30 a.m. We meet in the kitchen on the lower level. The children and teens attend class with their peers in the Bethel Church. Then at 11:00 a.m. there is a worship service in the lower level. There is Bible study Fridays at 7 p.m. in the party room of Crescent Apartments in Blue Earth. We also have social events and potlucks on a monthly basis.
We hope to offer some activities especially for married couples very soon.
Call us if you want information concerning our activities.
Bible Studies
Studies in the Gospel of Matthew, Blue Earth, Fridays
7 p.m.
More studies added all the time…contact the church for details.